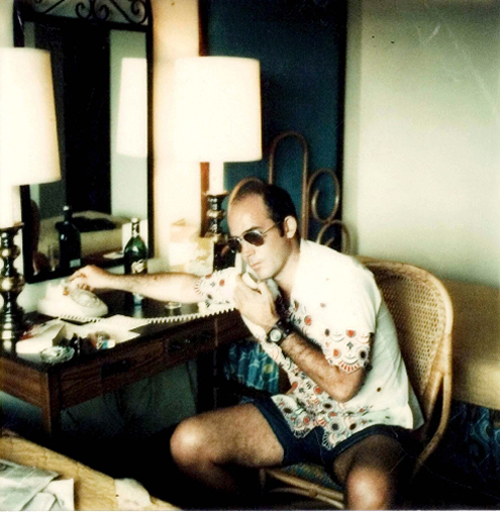 Separating fact from fiction in 'Fear and Loathing in Las Vegas'
By Corey Levitan (Las Vegas Review-Journal)
That author Hunter S. Thompson and his friend, attorney Oscar Zeta Acosta, visited Las Vegas in 1971 is a fact. There are photographs and witnesses. But what exactly happened, and how much of it resembles the book forever entwining Thompson's name with Las Vegas?
To commemorate the fifth anniversary of Thompson's death on Saturday, we attempted to separate the fact from the fiction in "Fear and Loathing in Las Vegas." (For the record, the 1971 book was never represented by Thompson as an accurate account of anything.)
The story opens with Thompson and Acosta — thinly veiled as Raoul Duke and Doctor Gonzo — speeding from Los Angeles to the valley so Thompson can cover the Mint 400, an off-road vehicle race around undeveloped parts of North Las Vegas, for Sports Illustrated magazine.
According to Norm Johnson, who founded the Mint 400 in 1967 and raced in it the year that Thompson observed, the author "got the race stuff right."
Quickly, though, the Mint 400 became inconsequential to the article that Sports Illustrated ended up rejecting. (It ran in Rolling Stone before becoming the book.) Instead, Thompson delivers a sad but funny and truly demented eulogy for hippiedom, arguing that its flowers be replaced by guns. (The drugs could stay.)
Some events are verifiable. In the 2008 documentary "Gonzo," Thompson and Acosta can actually be heard living Chapter 9 as they pull into a Boulder City taco stand.
"We're looking for the American dream," Acosta tells a waitress, "and we were told it was somewhere in this area."
The waitress turns to the cook, thinking she has just been asked directions to a nightclub.
"Hey Lou," she says, "you know where the American Dream is?"
"That whole chapter is a transcription of that audiotape," said "Gonzo" director Alex Gibney. "So it leads you to believe that some of this stuff is real."
What probably isn't real is Thompson's infamous account of a Debbie Reynolds show at the Desert Inn: Duke and Gonzo witness the opening number (a cover of the Beatles' "Sgt. Pepper's Lonely Hearts Club Band") before getting bounced for having conned their way in for free.
While Reynolds did play the Desert Inn in March 1971, the singer does not recall this incident, or anything similar. It's possible that she was never informed, or that she forgot. However, Reynolds is sure of one detail that casts suspicion over the entire account: She has never, she told the Review-Journal through a spokeswoman, performed "Sgt. Pepper."
Likewise, although much of the book was set in Thompson's comped room at the Mint (Room 1850 of the recently shuttered Binion's Hotel), an equally likely setting was Thompson's creative mind. K.J. Howe, a former publicity executive at the hotel, insists that he would have immediately been informed if any Mint 400 guest ran up a room-service bill of — as per "Fear and Loathing" — "$29 to $36 an hour, for 48 consecutive hours" then skipped out on it.
"That is something I would have known," Howe said, "but I never heard that."
Howe, now retired at age 71, remembers meeting Thompson the night before the race, while manning its press table in the Mint lobby.
"I thought he was a panhandler," Howe said. "He was dressed out of context. I think he had a flowered shirt on and a crazy hat and sunglasses. He should not have been in a racing environment." (Obviously, the famous Thompson persona was not yet famous.)
According to Howe, there was no "Mr. Heem" or any other hotel executive looking for Thompson, Acosta couldn't have ordered a set of luggage from room service without paying, and 600 bars of Neutrogena soap never went missing.
"He may have grabbed a pile of them from a maid's cart," Howe said, "but that's about all."
Other embellishments require no witnesses to identify. For instance, the district attorneys' conference Thompson was assigned to cover by Rolling Stone convened in late April, more than a month after the Mint 400. Yet the book places the events a week apart, joining them by an aborted trip to Los Angeles punctuated by a traffic stop conducted by a California Highway Patrol officer who supposedly let Thompson go after the author led him on an off-road chase, at 100 mph, with a Budweiser in hand.
"You know," Thompson quoted the officer, "I get the feeling you could use a nap."
Howe put it bluntly: "His concept of what was going on and what was really going on was two different things."
Dismissing Thompson's entire Las Vegas travelogue as fantasy, though, misses the mark by an equal distance.
"It's really only from a deep basis in fact where he did start to spin off into certain things that, at some point it became evident, were fantasy," said Corey Seymour, Thompson's assistant from 1991 to 2000 and author of his 2007 biography (also titled "Gonzo"). "What you can never really do is to draw that line exactly when the fact stopped and the fantasy began, and that is certainly part of Hunter's genius."
Indeed, even Howe acknowledged that Thompson got the brand of allegedly stolen soap right. (The late Del Webb, who owned the Mint, also sat on the board of the company that made Neutrogena.)
Judging by Internet message boards devoted to Thompson, the book claim most readers want verified is the author's drug use while in Las Vegas. "Fear and Loathing" implies that he and Acosta consumed "two bags of grass, seventy-five pellets of mescaline, five sheets of high-powered blotter acid, a salt shaker half full of cocaine, and a whole galaxy of multi-colored uppers, downers, screamers, laughers … and also a quart of tequila, a quart of rum, a case of Budweiser, a pint of raw ether and two dozen amyls."
As exaggerated as this sounds, it's a claim both Johnson and Howe have no problem believing. Johnson recalls escorting Thompson onto a Mint balcony the morning of the big race, to view the vehicles lined up on Fremont Street.
"He almost fell off the edge of the balcony," Johnson said, adding that a security guard had to step in and catch him.
"Oh God, yeah," Johnson added, "he was stoned."
Thompson's drug abuse, in fact, could be used to explain much of the fictionalization in "Fear and Loathing" as — strange as this sounds — unintentional. As Seymour explained: "Who's to say what he's writing is not exactly true in the way that he's experiencing it?"